I have been trying not to complain about the heat in Manila. I'm thinking,
It's Manila. What do you expect?
The operative word is "trying." It's hard not to complain when the heat saps all of my energy and keeps me from doing anything productive. Surely, this heat is beyond normal.
In the
Inquirer
today, Conrado deQuiros writes that global warming
"is not an environmental issue, (but a) survival issue."
********************

Here is a product of a long MRT ride. I put together obscure references to my friends' homes:
My friend
Zye
lives in
Carmona, Makati
. There was this beer commercial (San Miguel, I think) where a guy takes his friends out for drinks and realizes that he forgot his wallet at home. He tells his friends he has to go and get it. As he leaves, one of his guests inquires after him:
Friend 1: Saan ba nakatira si (let's call him...) Eugene?
Friend 2: Sa Carmona.
Friend 1: Ah...sa Makati.
Friend 2: Hinde! Sa Carmona, Cavite!
Everyone in the beerhouse (in shocked tones): sa CAVITE?!!
My other Baguio friends live in
Marikina, Metro Manila
. The other evening,
Nicole
took me to Riverbanks Mall where we were to buy the ingredients for that night's dinner of fake crab and pechay. We finished our business at the supermarket and decided to look around for a bit. Apparently, Nicole had a surprise for me. At the very end of that stretch of mall is a shoe store that houses the
World's Largest Shoes
.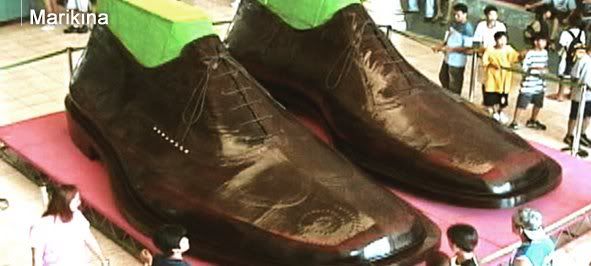 (Photo taken from the blog
Welcome to my World
by navigate53. Included in the post
Explore Philippines: Marikina City
.)
Incidentally, I am still homeless. My father didn't enjoy the idea of
me living in a windowless room
. I am currently shuttling back and forth between my lolo's house in Makati and Marikina. I'm living out of a suitcase. Very rockstar, but also very inconvenient. If you guys might point me in the direction of a
cheap
room for rent near Diliman, it would be most appreciated.
********************
Last night, I dreamed that I revealed all of
Maika's
secrets through a text message. Apparently, I was exhausted and didn't know what I was texting. It was almost as if I was drunk. In my dream, I woke up (yeah, I woke up
in
the dream) with a bad feeling. I looked in my Sent Items and found I had texted all of Maika's deepest, darkest (Eh?) secrets to a certain Chloe. (I think the name Chloe stuck because last night, before I left Marikina for Makati, the people there were watching
Match Point
. Emily Mortimer's character's name was Chloe.) Maika, do you know anyone named Chloe? If not, we're good. Besides, in the dream, you forgive me. I give you a peace offering - a book called Myths Retold.
Read more:
While searching for an article about the World's Largest Shoes, I found
this site which includes some World Records the Philippines has acquired
. Check out the Largest Loot in History. Thievery in high places. Very amusing.